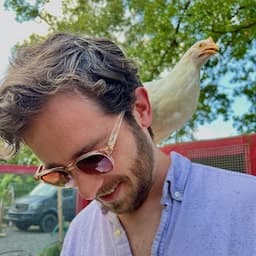 I'm Joshua Bartz.
I design & consult on
inclusive

products.
Ethical research and design creates a more equitable world. I build teams, refine strategies, champion accessibility, and foster "yes-and" collaboration to breathe life into life-changing software.
Currently
I'm design consulting and coding.
You'll find me consulting on products that improve lives. I'm also teaching myself front-end development to build this website as my corner of the Internet. Expect frequent changes.
Previously
2017 - 2021
I led design for Jamf Now.
Jamf Now is an Apple-centric mobile device management platform for small businesses without IT and InfoSec backgrounds. I built user experience roadmaps and shipped a new subscription tier with refreshed Mac, iOS, and web apps.
2012 - 2016
I got my start at Code42.
Code42 protects the world's data. I established a user experience practice by leveraging customer support ticket metadata. I redesigned key data management and recovery workflows, and I co-conducted internal usability tests to protect the company's intellectual property. I am still an internal meme.
And I write on occasion.
Expect links from across the web, updates on real-world projects, and design and ethics talk — with an infrequent hot take on music, books, and cooking.
June 30, 2022

June 26, 2022

May 14, 2022