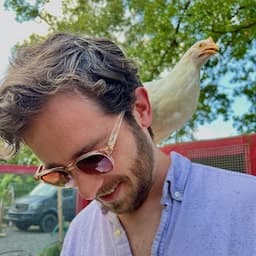 Hi, I'm
Joshua Bartz.
I build teams, refine strategies, champion accessibility, and create "yes-and" designs to breathe life into life-changing software.
Currently
I'm making software more
inclusive

.

I'm consulting on products that improve lives, and I'm building this website and teaching myself front-end web development as I go.

Say hello! Shoot me an email!
Previously
2019 - 2021
I led product design for Jamf Now.
Jamf Now is an Apple-centric mobile device management platform for small businesses without IT and InfoSec backgrounds. I built user experience roadmaps and shipped a new subscription tier with refreshed Mac, iOS, and web apps.
I worked on amazing projects:
No one should have to understand system debugging messages to figure out what is happening to their company devices.

Jamf Now Fundamentals plan

Study Coming Soon

We developed a brand new subscription tier by integrating Enterprise-grade apps into a Small Business package.

Our hackathon-winning project that went on to fulfill our most requested feature.

Software license conflict resolution

Study Coming Soon

A change to simplify our software license management services required a massive effort to protect our users' time and budgets.
2017 - 2019
I was a design generalist at Jamf.
Jamf helps organizations succeed with Apple. I implemented accessibility standards and put together strategy for a full redesign of Self Service on macOS, iOS, and iPadOS, consolidated more than 150 duplicate patterns and rearchitected Jamf Nation, and helped champion the start of Jamf's UX research practice and design system.
I made incredible strides:
Rethinking Self Service for macOS

Study Coming Soon

Our flagship desktop app was bloated by unfriendly design and layers of conflicting code to support it. Engineering and I made the case to prioritize a full redesign and re-engineering.

Accessibility guidelines for Self Service

Study Coming Soon

Self Service is made to help employees find the tools and information they need, but it failed audits from our largest customers and left a critical portion of our users hanging.

Feature Request Timeline for Jamf Nation

Study Coming Soon

Our Product Owners and Managers needed tools to give updates and estimates for our most frequented community area. Research brought our best ideas.
2012 - 2016
I got my start at Code42.
Code42 protects the world's data. I established a user experience practice by leveraging customer support ticket metadata. I redesigned key data management and recovery workflows, and I co-conducted internal usability tests to protect the company's intellectual property. I am still an internal meme.
But also
I write on occasion.
I'm talking about projects that aren't quite case studies, ideas learned in code, and hot-takes on design and ethics. Maybe also music, food, and life.
Who said the Web can't have physical interactions? Let's experiment with CSS media queries to improve the case study viewing experience on mobile.
October 16, 2022

The 2022 update on the software and hardware in my workflow.
June 26, 2022

Books, camels, music, and a relatable tweet for Spring.
May 14, 2022